Museum Programs
Bugs and Museum Day
One of the goals of the Elm Fork Natural Heritage Museum is to provide education outreach programs. Each year we partner with the City of Denton to provide programs designed to enhance community awareness of mosquitoes. We also often collaborate with local groups to develop programs to increase public awareness of natural resources.
The museum plays a keystone role in variety of outreach education opportunities associated with the University of North Texas such as the Elm Fork Education Programs (both normal school year programs and summer camp programs) and the Lake Lewisville Education Learning Area.
Mosquito Awareness Education
Citizen Scientist Program (July – September)
The City of Denton and the University of North Texas (UNT) have developed several projects designed to increase public awareness of mosquitoes and mosquito-bourn diseases. A Citizen Scientist program, geared to adults or families, provides opportunities for participants to attend a multimedia class concerning mosquito biology and the role of mosquitoes as disease vectors. This program also discusses mosquito population management, as well as actions to minimize human contact with mosquitoes. Each participant receives a mosquito larval collection kit containing instructions on how to collect/preserve mosquitoes and record information describing sampled habitats. Collected mosquitoes are delivered to UNT for identification. Information compiled from this study is recorded in a GIS database. After compilation, each family is contacted with the results of the surveys.
This program runs each summer from mid July through August. A printable brochure is available for download (Requires Adobe Reader).
To volunteer contact us at kennedy@unt.edu or call (940-565-2694) .
Mosquito Wranglers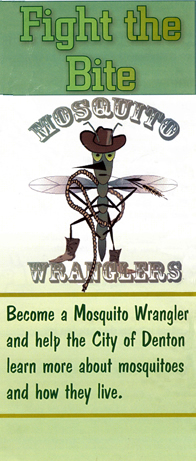 Mosquito Wranglers, is directed at children 8 – 10 years old who attend Denton city summer camp. This program is designed to engage children in several fun activities that required the children to "scout out" suitable habitats and sample any larval mosquitoes they found. Many of the activities developed for this program could easily be adopted as classroom activities. Please contact us at kennedy@unt.edu for further information.